220 Firefighters + 35 Days + PL VULCAN'S EXPERIENCED STAFF = SUCCESS

The Warwick, RI Fire Department is a better fire department today than it was at the beginning of August this past year. As a Battalion Chief I feel the rank and file is far better prepared for a firefighter in distress situation whether the firefighter is the victim or rescuer. I had the opportunity to work on the logistics side of this two month training for our 208 person department with Mark, Pat and the rest of their staff and I can tell you that the professionalism and willingness to adapt to our timeline was second to none. They took the time to understand our department and how we operate well before the training started and customize the program to suit our needs. Every trainer with P.L. Vulcan has a unique quality which broadened our training yet the training was very consistent throughout the four day program for each of our members. Our Department is now in position to make some important adjustments whether it is SOG's, equipment or running orders to alarms. The method of delivery by the instructors is what makes this company unique. The integration of their own personal experiences with up to date state of the art training techniques made it an absolute tremendous training experience for the entire department that will never be forgotten. Not only are the instructors great firefighters but they are great people. Hopefully we will have them back in the future! B/C James McLaughlin
AREA, PA PUTS TECHNIQUES LEARNED AT RECENT TOWER LADDER OPS CLASS TO WORK
Collapse rescue in the first due. Used your basket bridle to lower the victims, as well as, the low angle ladder slide.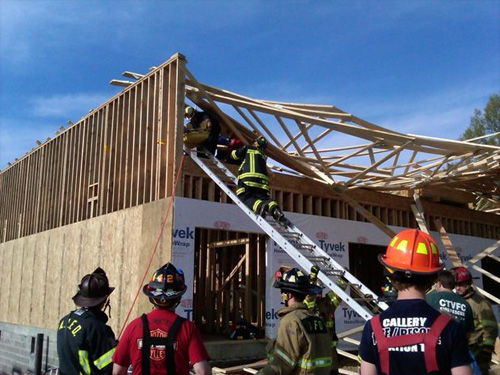 Al Minjock, R.N., MSN, PhD
Chief of Department
Adams Area Fire District

---
COMMENTS FROM OUR PAST CLASSES
"LT PETE LUND WOULD BE VERY PROUD OF THESE GUYS!!!!!!!!!!!!!!!!!! I HAVE BEEN DEALING WITH MARK AND HIS KNOWLEDGE FROM HIS YEARS OF EXPERIENCE AS A FIREFIGHTER HAS HELPED ME TO TEACH MY GUYS NEW AND EASY WAYS OF DOING THINGS!!!!!!!!!! THEY WORK THERE TRAINING AROUND YOUR DEPARTMENTS WAYS NOT JUST WHAT FDNY DOES BUT WHAT YOUR DEPARTMENT IS CAPABLE OF DOING. THEY ARE PATIENT AND UNDERSTANDING. YOU GOT A QUESTION JUST ASK!!!!!! THESE ARE GUYS YOU ARE PROUD TO KNOW, AND CALL FRIENDS!!!!!!!! THANKS SO MUCH MARK FOR ALL THE HELP!!!!!!!!!"
- Captain Chris Willis, Butler and Community Volunteer Fire Department

---
ELEVATOR OPS CLASS
It was a pleasure to have you and Randy at the Firehouse for the training. Elevators are an important part of any rescue plan. You gentlemen pretty much covered everything from top to bottom, (no pun intended). Everyone who attended learned a great deal and walked away with a greater appreciation of the difficulties and dangers associated with elevator rescue. The comments were very positive. As a side note, the TIFF 8800 meters are being requested and we had a Gas call where the source of the leak was finally identified by the Gas Company only after our own detection equipment identified the combustible gas but not the source. This should help to convince the Board. Thanks again. I would strongly recommend the training to every Department that is interested in Elevators and I will bring it up at the next 7th Battalion Chiefs Meeting.
Sincerely,
Christopher L. Gioia
1st Assistant Chief

---

NORTH CAROLINA VES CLASS STUDENT
One of our students at the Grennville/ North Lenoir VES Class in North Carolina,
Just wanted to thank you again for coming down to teach ladder ops and VES. I've sat through a lot of classes that didn't teach me much more than I would have gotten from reading my essentials book, so it was refreshing to have some instructors who were able to say "When this happened - this is what I did," instead of "If this happened - this is what I would do." We go through a lot of BS training and run few calls, so classes like yours remind me why I enjoy this job so much. I'm back to work today and already the guys are tired of me showing them the new stuff I learned. Keep up the good work, I look forward to the next time ya'll come down to NC.
---
HAGERMAN FIRE DEPARTMENT
A woman walked into the firehouse for a ring she couldn't get off her finger. Days before this incident, members received training from PL Vulcan Fire Training Concepts and were trained on Man Vs. Machine training. The training covered the Medical and Rescue Aspects of People trapped in various types of machinery. Students participated in the removal of mannequins from such items as meat grinders, snow blowers and lawn mowers. An impalement and ring removal section was also provided and as you can see from this video, the training paid off for one lucky woman.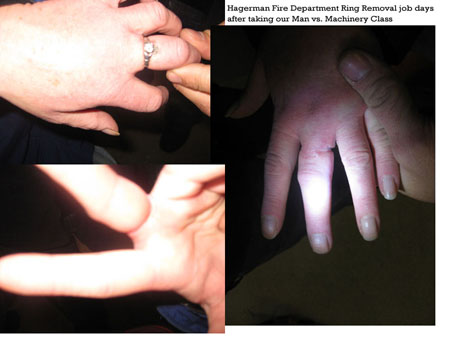 click to enlarge